What is Aquatic Adventures?
​
Aquatic Adventures is a PADI 5-Star Instructor Development Centre based in Rowville, Victoria, Australia. Situated within 5 minutes drive of 2 of Melbourne's major freeways, and only 2 minutes off the main route down to the Mornington Peninsula, Aquatic Adventures is perfectly situated to cater to all your Scuba Diving needs.
​
We offer courses in all levels of recreational Scuba Diving, Technical Diving & Freediving, as well as professional-level courses. Our Rowville store stocks a wide variety of dive equipment, accessories and accoutrements, and we have a very active dive club, the Aquaholics, who not only dive every weekend, but also do lots of inter-state and international dive trips.
​
Come and visit us and meet the friendly team at Aquatic Adventures, offering Melbourne Scuba Diving at its finest!
What is a 5-Star IDC Centre?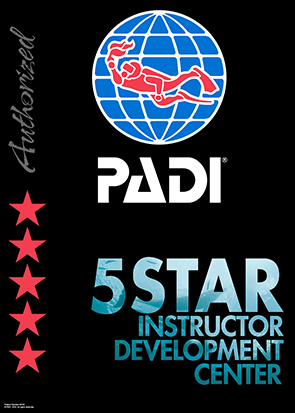 To earn a PADI 5-Star Dive Centre rating, you need be a progressive dive shop, offering a full range of PADI scuba diving education programs, equipment selection and experience opportunities, while encouraging aquatic environmental responsibility. To become a 5-Star Instructor Development centre you must also offer PADI instructor-level training. 5-Star IDCs have at least one PADI Course Director on staff and are committed to offering PADI Instructor Development Courses and continuing education opportunities to dive professionals.
​
5-Star IDCs and Dive Centres excel in providing quality services to divers, present a professional image and actively promote the benefits of recreational scuba diving, snorkeling, dive travel, and environmental protection. They embrace the PADI System of diver education and offer regular continuing education programs to ensure divers have the opportunity to advance their skills and knowledge, and to progress on to the dive professional level should they want to.
PADI 5-star IDCs are active in their local community and are committed to providing customer satisfaction along with great dive experiences.
History of Aquatic Adventures
Aquatic Adventures has been part of the Victorian scuba diving industry since the year 2000. Rowville was the original location, and at one point was the flagship store for a group of 5 stores, owned by Bryan McGoldrick. When Bryan retired he sold the stores to their managers, and now only the Rowville store remains of the Aquatic Adventures group. The manager in question, Damian Jones, ran Aquatic Adventures for many years, moving from the original location in Fulham Road, over to the current location on Wellington Road. Damian left to pursue a role within PADI itself, and sold the store to the current owner, Ollie Payne, back in early 2018.
​
Aquatic Adventures has undergone many changes over the years, but one thing remains the same - our dedication to our customers and to the Victorian scuba diving industry as a whole. With club members and customers ranging from every era of the store, we have the most impressive and long-lasting history in the local Scuba industry, and we honour this legacy by continuing to offer top-level training, the best equipment, and the best services in all sectors of our market. When we say Aquatic Adventures is "Melbourne Scuba Diving at its finest", we mean it!